ABOUT US
MetalERG
MetalERG has been a family-run company since 1967. Until 1987, the company was engaged in construction and renovation work. In the 1980s, the business profile was gradually transformed into processing, metal processing and plastics.
In 1993 we bought a license from the Danish company SKELTEK for organic production Boilers for straw, Wood and other biomass EKOPAL RM. Since then, we have been continuously producing biomass boilers, expanding the assortment palette.
A large number of boilers are exported abroad. To Denmark, Norway, Finland, Sweden, Scotland, Czech Republic. The complement of the offer is efficient and economical air heaters on the straw. We are also a manufacturer of medical equipment. We offer world-class quality Medical oxygen concentrators used in medical facilities and rescue units.
O NAS
OUR MISSION
We are specialists in the manufacture of metal products weighing from a few grams to several dozen tons. Our mission is to provide high quality products and services using knowledge, expertise and innovative thinking.
Our mission is also a social mission – in our structure more than half of the employees are people with a disability certificate.
Awards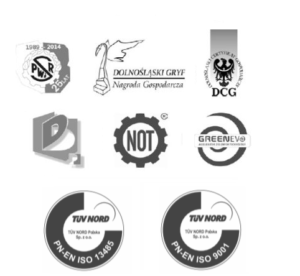 Certifications